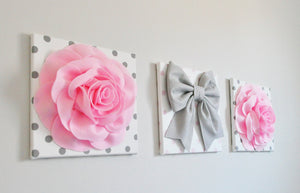 TWO Light Pink Roses on White with gray polka dot Canvases and ONE Gray Bow on 
White with light pink polka dot Canvas
ALL ITEMS ARE MADE TO ORDER PLEASE SEE SHOP FOR CURRENT CREATION TIME!!!

***Matching and Coordinating Pillows Available Please see Shop:
www.daisymanor.com

Stunning Touch to any wall and room! More Flower Designs and Colors Available, we can custom to your decor!
Bows and Flower are made from the Highest Quality Wool Felt.
Bow and Flower measures about 10" wide and 10" Tall and it about 2" thick.
Mounted on a Gray and Pink Polka Dot Twill Cotton Fabric Wrapped on Canvas.
Canvas measures 12 x 12".
Contact Shop Seller before purchase for custom colors!
Background also available in Different Chevron Colors and Solid Prints in almost any color!

Thanks for checking out BedBuggs Boutique!
ALL BedBuggs Boutique Designs are 100% Original © Daisy Manor / BedBuggs Boutique 2010-2014 ALL RIGHTS RESERVED
***YOU MAY NOT COPY, RECREATE OR IMITATE OUR DESIGNS***
Thank you for respecting our rights!YOU AS THE BUYER AGREE TO ALL OUR TERMS AND CONDITIONS UPON PURCHASE Please see our Policies Page: 
Looks great in our nursery!
Very happy with the pink and grey nursery wall canvas! It is a baby shower gift for our daughter in law... she is going to love ?? it! It will be perfect in the baby's nursery! The quality and workmanship is very well done! Thank you again for a beautiful set well made!!!
Absolutely adorable! I could not be happier with these! I think they are perfect! :) :)
Expensive but good quality and very pretty.