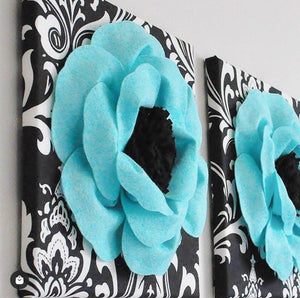 LARGE AQUA POPPY FLOWERS ON BLACK Damask CANVASES
Bring your walls to life with these one of a kind poppy style flowers. 3D Aqua Poppy Petals and Black Center on Black damask Canvas set of two. This is the centerpiece to add depth, softness, texture and accent color to your walls. This set will look great above a headboard, crib, changing table, dresser, or in the bathroom, kitchen or living room. Give these as a gift that will leave an impression for many years to come. Perfect gift for baby shower, Birthday Present, Mother's Day Present, Get well gift, nursery reveal, wedding, anniversary and more.
Includes:
Two 3D AquaPoppy Flowers on Black Damask 12 x 12" Canvases.
Choose your Poppy Petal Colors to make your poppy wall decor set in.
Materials:
Each poppy flower is hand cut and hand sewn in the perfect 3d floral design you see here. Each flower is made from only the finest premium/ wool blend felts. 
Each 12 x 12" Canvas is had wrapped in striped fabric and stapled securely into place. 
Each flower is securely sewn onto each canvas. 
Care Instructions:
Each flower can be fluffed or posed in to your desired position. Each flower is cleaned and posed prior to shipment and is shipped with care. Upon arrival your flower may need some fluffing to achieve the perfect shape.
To clean the flower or canvas you can use a color-fast damp cloth to spot wash.
To remove dust or lint, simply roll a tape lint roller over each petal and preposition and fluff each petal. 
Other canvas sizes are available, please contact shop for purchasing details. 
~*~*~*~*~*~*~*~*~*~*~*~*~*~*~*~*~*~*~*~*~*~*~*~
See Shop for Other Options! Wall Hanging Collection
Check out matching curtain ties to complete your home decor set.
~*~*~*~*~*~*~*~*~*~*~*~*~*~*~*~*~*~*~*~*~*~*~*~
Thanks for your visit to Daisy Manor!
YOU AS THE BUYER AGREE TO ALL OUR TERMS AND CONDITIONS UPON PURCHASE Please see our Policies Page.
Thanks for your visit to Daisy Manor!
This design is the sole property of Daisy Manor / BedBuggs Boutique and is protected internationally. YOU MAY NOT IMITATE OR RECREATE THESE DESIGNS. All violators will be prosecuted! © Daisy Manor 2010-2020