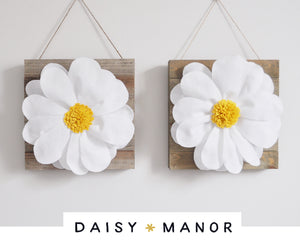 WHITE DAISY FLOWERS ON WOOD WALL ART PANELS SET OF TWO

Beautiful floral wood art adds the rustic touch of reclaimed wood to your home decor with a stunning soft feminine touch of over sized Daisy Flowers. This is the idea set for your neutral farmhouse decor theme. Floral wood wall art is the perfect decor for your laundry room, hallways, entryway, kitchen, dining room, nursery wall art and so much more.
This set is the perfect wall art for baby girl nursery, girls bedrooms, master bedrooms, offices, reception rooms and so much more. 
Give this floral wall decor set to the rose and flower lover on your list. These roses will bloom in stunning beauty for many many years to come. Perfect gifts for baby shower, wedding, bridal shower, housewarming, Birthday, Mother's Day, Christmas and so much more. 

Includes:
TWO Daisy Flowers on Reclaimed, Slightly Distressed 12 x 12" Wood Plank Set.

Each Flower wood wall decor 

plank is opened backed for easy, gallery style hanging and for the flushed to wall modern appearance, or each

 

wooden flowers wall decor 

plank can be hung by the jute rope attached to the plank as shown in the images.
Choose the flower color that you would like us to make for your set.
Materials:
Each flower is hand cut and hand sewn in the perfect 3d floral design you see here. Each flower is made from only the finest premium/ wool blend felts.
Each 12 x 12" Wood Plank is approximately 2" deep with an open back. Each plank is made from natural, distressed and weathered wood.

 

***As wood is a natural product the grains and color will vary. Your planks may be darker, lighter or a slightly different shade or more or less weathered and distressed than seen in our images, we do our very best to match the wood planks to each other in a set, but please understand we have no control over exact coloring and grain of natural products.***
Each flower is permenantly affixed to each wood plank. 
Care Instructions:
Each flower can be fluffed or posed in to your desired position. Each flower is cleaned and posed prior to shipment and is shipped with the greatest care. Upon arrival your flower may need some fluffing to achieve the perfect shape.
To clean the flower you can use a color-fast damp cloth to spot wash.
To remove dust or lint, simply roll a tape lint roller over each petal and preposition and fluff each petal. 
Other canvas sizes are available, please contact shop for purchasing details. 
~*~*~*~*~*~*~*~*~*~*~*~*~*~*~*~*~*~*~*~*~*~*~*~
Complete your wall decor set with matching the matching rose crib ties . Add some matching curtain ties or even a matching rose pillow to complete your rose decor nursery set. 
~*~*~*~*~*~*~*~*~*~*~*~*~*~*~*~*~*~*~*~*~*~*~*~
Thanks for your visit to Daisy Manor!
YOU AS THE BUYER AGREE TO ALL OUR TERMS AND CONDITIONS UPON PURCHASE Please see our Policies Page.
Thanks for your visit to Daisy Manor!
This design is the sole property of Daisy Manor / BedBuggs Boutique and is protected internationally. YOU MAY NOT IMITATE OR RECREATE THESE DESIGNS. All violators will be prosecuted! © Daisy Manor 2010-2023